What's Happening at Hathaway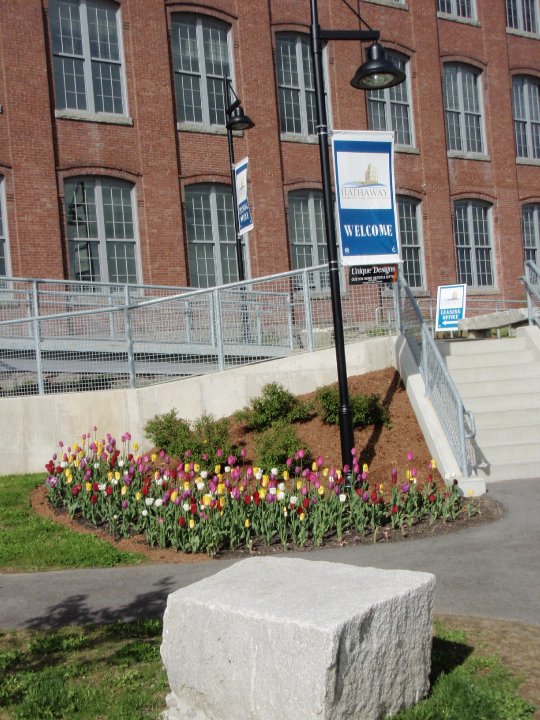 Hathaway Creative Center is committed to providing a place for various events and activities open to organizations and/or the public. As this live, work, play environment continues to be rehabilitated over the next several years, we hope to provide a variety of inside and outside spaces for events and activities. As a result, this page will be regularly updated to provide the community with the latest information about what is happening at Hathaway.
2012 Hathaway Events
Painters Players and Poets debuted with 250 guests and the Waterville Pecha Kucha attracted close to 300 guests.
The next Pecha Kucha event will be hosted at Hathaway on Friday, July 20th and will coincide with an event from the Maine International Film Festival. For more information go to http://pecha-kucha.org/night/waterville/.
2011 Hathaway and Community Events
Saturday, July 23, 9:00 a.m. -4 p.m. on Main Street - 42nd Waterville Intown Arts Fest - Nearly 100 artists will line the street to display and sell their artwork. With pieces to fit every taste and budget, Arts Fest truly offers something for everyone.
April 14-17, 1:00 p.m. - 4 p.m.: Third Annual Kids With Cameras Exhibit - Always a treat, the Third Annual Kids with Cameras photography contest exhibit, sponsored by the Waterville Boys and Girls Club/YMCA, will be on display on the first floor in the Hathaway retail marketplace corridor. Come see our community and world through the eyes of children!
March 6 Bridal Show a hit!
The Hathaway Creative Center was the venue for the March 6th Original Bridal Showcase, hosted by 92 Moose and B98.5. It was a fantastic event, with nearly 500 people in attendance! Read more here.
February 5, 10 a.m.-2 p.m.: Quarry Road Recreation Area Winter Carnival - Activities will include:
•Trailside food and hot beverage stations provided by local restaurants!(first come, first served)
• Ski instruction available with Central Maine Ski Club!
• Equipment available to try!
• Snowshoe races!
• Winter biking demos with CeMeNEMBA!
• Laser biathlon demo!
• Sledding, bonfire & more!
All welcome! Trails for skiing, snowshoeing, sledding & walking! Donations to support the trails gratefully accepted! Winter Carnival brought to you by Waterville Parks & Recreation, Friends of Quarry Road, Kennebec Messalonskee Trails, and Healthy Maine Partnership of Greater Waterville.
Recent Hathaway and Community Events (2010)
June 18-July 24: Winslow Family Fourth of July Celebration (20th Anniversary) - The biggest and best Independence Day celebration in Maine! FMI: http://www.winslow4thofjuly.com/mobilesite.html Be sure to look for the "Maynard's Ice Cream" Booth!
July 9-18, 2010: Maine International Film Festival - A 10-day event featuring the best of American independent, international, and Maine-made films. Visiting actors and filmmakers interact with attendees in intimate Q&As and at lively receptions and parties. FMI: http://www.miff.org/ Congratulations to Unique Designs for winning the MIFF storefront decorating contest. Stop by and see it!
Saturday, July 17, 9am-4pm on Main Street, Waterville: 41st Annual Waterville Intown Arts Fest - Downtown Waterville welcomes nearly 100 artists line Main Street to exhibit and sell their work. With thousands of dollars in prize money up for grabs, Arts Fest attracts artists from around the state and beyond. Artwork ranges from oils to watercolors, pastels to photography, and with work on sale for $10 to $1000, visitors are sure to find something to fit every budget. (Rain Date: July 18). FMI: http://www.watervillemainstreet.org/events.php
August 4, 2010: Taste of Greater Waterville - Join the Mid-Maine Chamber of Commerce under the stars in Downtown Waterville to celebrate the Greater Waterville area and share the region's finest cuisine. FMI: http://www.midmainechamber.com/
August 20, 5:30-8 pm, 1st Annual Barrels Community Dinner by the River, Head of Falls, Downtown Waterville - Enjoy an elegant riverside dinner, featuring an all-local menu of creative canapés and appetizers, local beer and wine, salads, vegetables, grilled free range, hormone-free meats, whole grain breads, and dessert - all served by Barrels volunteers.
5:30-6:30 p.m. Hors d'oeuvres & cocktail hour
6:30-8:00 p.m. Seated dinner
Tickets: $50 per person, all inclusive; available at Barrels Market at 74 Main St. and Waterville Main Street at 177 Main St. (Tickets are limited, so get yours early!)
Saturday, September 11, 12:30-7:00pm: The 4th Annual Hill 'n the Ville Music Festival - Head of Falls on Front Street in Downtown Waterville, ME. Admission to this event is 100% FREE and open to the public. This year's line-up: 12:30 - 1:00 - The Palace Flophouse (Colby College Students); 1:15 - 2:30 - Adam Ezra Group (http://www.adamezra.com/); 3:00 - 4:30 - Ryan Montbleau Band (http://www.ryanmontbleauband.com/); 5:00 - 6:45 - Rustic Overtones (http://www.therusticovertones.com/). There will also be food vendors and other activities.
October 17, 2010: 7th Annual Harvest Fest - Castonguay Square, downtown Waterville - Hay rides, scarecrow building, family pumpkin carving, pumpkin bowling, candy apply making, pony rides, face painting, a smokin' chili cook-off and more!
October 21, 2010, 6:00 pm: Passion for Fashion - Join Earth Bound at the Hathaway Creative Center for Passion for Fashion - a ladies' night out event featuring a cash bar, dinner, fashion show and bachelor auction! For the married ladies, they will be auctioning off a chef who will come to the winners home to cook for up to eight people. There is also a silent auction table. Tickets are $25, all to benefit one of Waterville's most beloved nonprofits, the Maine Children's Home.
October 22, 2010: Waterville's first PechaKucha coming to the Hathaway - The first of its kind in Waterville will take place the evening of Friday, October 22 at the Hathaway. Doors will open at 6 p.m. and the show will start at 7:20 p.m. PechaKucha Night was devised in Tokyo in February 2003 as an event for young designers to meet, network, and show their work in public. It has turned into a massive celebration, with events happening in hundreds of cities around the world, inspiring creatives worldwide. Drawing its name from the Japanese term for the sound of "chit chat", it rests on a presentation format that is based on a simple idea: 20 images x 20 seconds. It's a format that makes presentations concise and keeps things moving at a rapid pace. Learn more. (PechaKucha Night - devised and shared by Klein Dytham architecture)
November 10, 6-9 p.m.: Waterville Main Street's annual holiday auction. This year's event, a Winter Wonderland Gala, will be held on Wednesday, November 10, 6-9pm at the Hathaway Creative Center and will include a catered meal, live auction, silent auction and more.
November 26, 6 pm: Parade of Lights - Downtown Waterville: Watch dozens of floats light up Main Street as Santa arrives in Downtown Waterville, and the giant spruce tree is lit in Castonguay Square!
November 26-December 22: Kringleville - One of Downtown's oldest traditions. Parents, bring your children to visit Santa at his Waterville home, Kringleville in Castonguay Square. Visit www.kringleville.com for more information, including Santa's schedule, photos from past years and more!