What's Happening & Press
Hathaway in the News:
MaineGeneral to relocate 180 employees to Waterville's Hathaway center
Hathaway center, MaineGeneral join hands in renovating for the future


---
2012 Events at Hathaway
Two exhibits have already been displayed with great success at the beautiful Hathaway gallery. Painters Players and Poets debuted with 250 guests and the Waterville Pecha Kucha attracted close to 300 guests.
The next Pecha Kucha event will be hosted at Hathaway on Friday, July 20th and will coincide with an event from the Maine International Film Festival. For more information go to http://pecha-kucha.org/night/waterville/.
To inquire about hosting your event at Hathaway, call 207-861-5638. Our vacant retail spaces are available for receptions, reunions and other events. We also have the conference room for small meetings if needed at no cost.
---
Wright Ryan project wins Maine Preservation Award for Excellence
Portland, ME The Maine Preservation organization p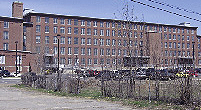 resented the owners of the former Hathaway Shirt Mill with a State Preservation Award for Excellence in Rehabilitation. [read article]
BY NEW ENGLAND REAL ESTATE JOURNAL
August 6, 2009



---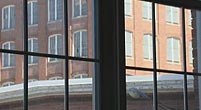 American Dreams 2009: HATHAWAY
Waterville, ME Through interviews with former Hathaway workers, Waterville residents, and people involved in the renovation and rebirth of this historic building, this film tells the story of the Hathaway mill, from its time as the main cog in Waterville's economic engine, to its rebirth as a main cog in Waterville's economic recovery.
[article no longer available]
BY COLBY COLLEGE
Fri, June 19, 2009

---
Factory's rejuvenation attracts tenants, accolades

Developer and Colby College alumnus Paul Boghossian enjoys a view of the Kennebec River from one of the apartments in the Hathaway Creative Center in Waterville recently as he leads a tour through the nearly finished project. [article no longer available]

03/31/2009


---