Hathaway History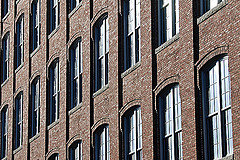 The history of the Hathaway begins in 1865 when George Alfred, a prominent citizen had a vision for Waterville. Mr. Alfred achieved the complex task of assembling water and property rights on both sides of the Kennebec River in what is now Waterville and Winslow. This permitted the erection of a dam at Ticonic Falls and the potential to harness water power at the Hathaway site.
Though dam completion occurred in 1869, the site remained undeveloped until 1873. Being recently retired as the head of the Maine Central Railroad, Mr. Rueben Dunn purchased control of the dam and set off to bring a suitable industry to the Waterville site. It was Mr. Dunn and his sons, Willard M. and Reuben W. Dunn, who induced Amos D. Lockwood, a native of Boston and Providence, to come to Waterville to build a cotton manufacturing mill on the site. Mr. Lockwood, being versed in mechanical, civil, and structural engineering, brought a unique set of skills to this task. As a result of Mr. Lockwood's extensive experience with cotton machinery and his knowledge of water power; Mr. Lockwood was able to design a structurally sound mill that could house equipment under a dynamic load involving much movement and vibration.
In February 1876, the first building began production with 33,000 spindles in production. Grateful for Mr. Lockwood's assistance, the Dunn family named their facility the Lockwood Company in his honor. With business thriving in early 1882 another mill, (today knows as the Hathaway Center) went online. The second mill greatly enhanced water power capability and added an additional 55,000 spindles. A final building was constructed shortly thereafter and subsequently enlarged to house weaving operations.
Products of the Lockwood Company included high quality bed linens that were shipped all over the United States and gained the company much renowned. At the turn of the century 1,300 people, predominantly women were employed in the three mills. Lockwood Mill continued in operation until 1955 when the last 700 workers were laid off and machinery auctioned off.
Mill's 2nd Life
The present Hathaway Center was reborn in 1956 when it was acquired by the Hathaway Shirt Company and extensively rehabilitated as executive offices and a shirt making factory. Hathaway, founded by Charles F Hathaway on Appleton Street in Waterville in 1853; prospered as a maker of fine shirts by 1955, Hathaway was internationally known for its quality, style, and distinctive "man with the eye patch" advertising. Hathaway, and its successor, Warnaco, operated the facility until 2002 when it closed for good.
Mill's 3rd Life
In 2006, Paul Boghossian, with ties to Waterville through Colby College, purchased the Hathaway and other Lockwood Mills properties and set to rehabilitate them. Anchored by MaineGeneral Hospital and HealthReach, the Hathaway begins its third life as beautifully rehabbed offices, apartments, creative, retail and recreational spaces.