Residential Leasing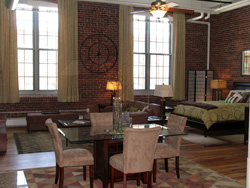 With a range of apartment styles, sizes, and prices the Hathaway Creative Center offers something for everyone. Sixty-seven loft-style units ranging in size from 575 square feet to 1,500 square feet are located on the fourth and fifth floors of the building.
Tenants have complimentary access to a superbly equipped fitness room and a dedicated business center where you can go online, fax a document or hold a small meeting. The building plenty of parking onsite and has elevator service in the East and West lobbies. Security is provided through key-card access to elevators going to the top residential floors, as well as doors going to the top residential floors.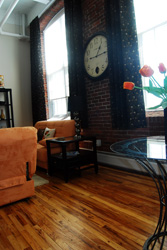 Hathaway apartments have many desirable features: 14-foot ceilings with wood beams; hardwood floors, stainless steel appliances, granite countertops and large windows. Many of the units have views of the city and the Kennebec River and the 2 and 3 bedroom apartments have a washer and dryer.
The Hathaway Center also offers beautifully furnished and fully equipped corporate apartments for stays of two months to one year.
Ask anyone who lives in the Hathaway -- they love it! Please tell us your needs and we'll find the best space for you.
For more information or to schedule a tour please click here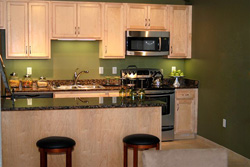 Property Managed by North River Company
Property Manager:
Rick Pullen
Email: rpullen@northriverco.com
Tel: (207) 861-5638
---






Amenities